The 50's and 60's
For all of you who where there in the 50's and 60's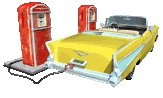 IT WASN'T BAD AT ALL.......IN FACT, IT WAS PRETTY GOOD

I was born in the late 1940's and grew up in the 50's and early 60's, got married in the middle 60's. You hear a lot of jokes about our childhood. The teens today say, wheeeeee, that was such a long time ago. And they will laugh and snicker about our life then. But you know, it wasn't bad at all. In fact, it was pretty good!

The annual salary then was less than 3,000 dollars in the early 50's. For most it was less. Yet, most of the time, only one parent had to work. Mom was at home with a big smile to meet you when you got off the school bus. And with that ,000, our parents still could put away a little for a rainy day and still live a decent life. And you know, that wasn't bad at all. In fact, it was pretty good.

It was safe to send a six year old to the store to get a loaf of bread. For a quarter, he could get the bread and enjoy a candy bar on his way back. That wasn't bad at all. In fact, it was pretty good.

We didn't have air conditioning, so you left the windows and doors open. And you weren't afraid to do so. You knew every person in the community and their children. When a neighbor needed help, the neighborhood was there to lend a helping hand. That wasn't bad at all. In fact, it was pretty good.

When both parents did need to be away for a while, childcare meant leaving them with grandparents and aunts and uncles. And that wasn't bad at all. In fact, it was pretty good.

You had teachers who really cared and parents who were thankful for those teachers. If you got a paddling in school, you knew you were going to get another one when you got home. And you could go to school and not worry about someone having a gun. And the only drug you had to worry about was being "drug" out of bed in the morning. Ah, those fresh sun dried sheets felt so good! And that wasn't bad at all. In fact, it was pretty good.

You loved to watch the Real McCoys, Ozzie and Harriett, I Love Lucy, and Roy Rogers on that old black and white TV . You could go down to the theater and watch a Gene Autry movie, enjoy a coke and candy bar, all for 25 cents. And that wasn't bad at all. In fact, it was pretty good.

Sunday's families went to church together, enjoyed an afternoon ride and picnic together and went back to church Sunday night together. And that wasn't bad at all. In fact, it was pretty good.

Your Mom knew how to make a cut knee feel fine and Dad could fix anything that needed to be fixed. And that wasn't bad at all. In fact, it was pretty good.

You enjoyed fresh veggies from the garden, and the chickens ran loose in the yard. And that wasn't bad at all. In fact, it was pretty good.

Parents were respected and their rules were the law. Children didn't talk back. Children were taught to have respect for our elders and those in authority. Children were taught to show manners in their walk and talk. And that wasn't bad. In fact, it was pretty good.

Neighbors and friends corrected each other's children.......and it was appreciated. They cared! You were taught patriotism and Christian values in school. You had prayer and the teacher read from the Bible! And that wasn't bad. In fact, it was a wonderful and grand time in so many ways!


© Copyright 2002, by Gene Minix.
All rights reserved.
~~~~~~~~~~~~~~~~~~~~~~~~~~~~~~~
~~~~~~~~~~~~~~~~~~~~~~~~~~~~~~


GENE MINIX'S ______________________

CRUISIN' THE NOSTALGIA HIGHWAY

Ah, the Fabulous Fifties! Television was becoming more
and more a part of everyday life in the 1950's. More families
were getting TV sets and enjoying TV time as a family. AM
radio was becoming very popular and so were 45's and
LP albums. Families and morals were intact. Times were
much more simple than today and life was enjoyed.

Let's all hop in our '57 Chev. and Cruise on down the
Nostalgia Highway. The year is 1958.

Some of the favorite TV shows in '58 were: GUNSMOKE,
WAGON TRAIN, HAVE GUN WILL TRAVEL, THE RIFLEMAN,
MAVERICK, TALES OF WELLS FARGO, THE LIFE AND
LEGEND OF WYATT EARP, WANTED DEAD OR ALIVE,
ZANE GREY THEATER, CHEYENNE and SUGARFOOT,
THE TEXAN.......................
Ah, those great westerns. And then there were shows
like THE REAL McCOYS, THE DANNY THOMAS SHOW,
I'VE GOT A SECRET, THE PRICE IS RIGHT, THE RED
SKELTON SHOW, FATHER KNOWS BEST, PERRY MASON,
ALFRED HITCHCOCK PRESENTS, NAME THAT TUNE,

And who could forget THE ED SULLIVAN SHOW, LAWRENCE
WELK'S DODGE DANCING PARTY, JUBLIEE U.S.A.,
DINAH SHORE CHEV SHOW; TO TELL THE TRUTH,
FORD SHOW STARING TENNESSEE ERNIE FORD, etc.

And the music. On the country charts were such great songs
as THE STORY OF MY LIFE by Marty Robbins. Don Gibson
doing I CAN'T STOP LOVING YOU, the Everly Brothers with
ALL I HAVE TO DO IS DREAM and Ray Price's great hit,
CITY LIGHTS.

And what a year for Johnny Cash. His BALLAD OF A TEENAGE
QUEEN would stay number one for ten weeks. GUESS THINGS
HAPPEN THAT WAY would stay number one for eight weeks. It
was a year of hits for Cash. ALL OVER AGAIN would make it
to number four. BIG RIVER would make end up at number four
on the charts. His COME IN STRANGER would be number six.
(By the way, COME IN STRANGER and the other side of that
45 being GUESS THINGS HAPPEN THAT WAY, was the first
45 I bought ). THE WAYS OF A WOMAN IN LOVE would
make it to the number two spot on the charts and YOU'RE THE
NEAREST THING TO HEAVEN would make it to number five.
What a year for the great Johnny Cash.

An on the pop charts............AT THE HOP by Danny and the Juniors,
DON'T by Elvis Presley, TWILIGHT TIME by the Platters and David
Seville doing WITCH DOCTOR. The Everly Brothers's ALL I HAVE
TO DO IS DREAM. Sheb Wooley dong THE PURPLE PEOPLE EATER.
Rick Nelson doing POOR LITTLE FOOL. Conway Twitty's IT'S ONLY
MAKE BELIEVE. The Teddy Bears doing TO KNOW HIM IS TO LOVE HIM.
And THE CHIPMONK SONG (CHRISTMAS DON'T BE LATE) by
The Chipmonks and David Seville to name a few.

Some of the movies in 1958 were: AMBUSH AT CINMARRON PASS with
Scott Brady.
ANDY HARDY COMES HOME with Micky Rooney, APACHE TERRITORY,
CAT ON A HOT TIN ROOF with Elizabeth Taylor, COWBOY with Glen Ford.
And there were MAN OF THE WEST, DRACULA, TOUCH OF EVIL, VERTIGO,
TONKA, THE BIG COUNTRY and THE OLD MAN AND THE SEA.

Average yearly income was a bit over $4,500. You could buy a new car
for less than $2,000. A gallon of gas was about 24 cents. You could
buy a gallon of mile for a dollar. A loaf of bread cost you 19 cents and a
postage stamp was four cents.

Wow! What a year. Hey, getting hungry? Lets go for a burger at the
drive-in restaurant and then we'll do some more Cruisin' on down the
Nostalgia Highway. Sweet memories!

© Copyright 2013, by Gene Minix.
All rights reserved.
~~~~~~~~~~~~~~~~~~~~~
~~~~~~~~~~~~~~~~~~~



GENE MINIX'S______________
CRUISIN' THE NOSTALGIA HIGHWAY


The 1950's............a time that is never forgotten in America. Over and over when asked
what was the great days of this country and the majority of Americans say the 50's.

Slick hair, duck tails, pony tails, poodle skirts. Sock hops and soda shops. Drive-in's,
Cruisin' , Rock & Roll, Western movies and Leave It To Beaver. But so much more,
they will tell you.

A wonderful time for children and parents. A time when people made a good living,
when people were comfortable with their lives and the nation. Where neighborhood
schools were special. Where parents participated in local civic organizations. Where
there were pride in one's town and county.

When people went to church every week. Things weren't as complicated. Families
ate together and played together. Mom was home when the children got home
from school.

When morals were high. Where prayer was said in school and Bibles read. People
loved their country and weren't ashamed to fly the flag. People asked what they
could do for their country instead of screaming give me , give me , give me.

Where people cared about each other. Watched after each other. When neighborhoods
were safe and people felt secure.

Ah, yes. Special days indeed. Days that won't be forgotten. Will we have them again?
Sadly, I doubt it............... I very doubt it. We wish but we know, don't we. So we'll
hold to those special days in our mind and in our heart. I'm thankful for having had the
opportunity to grow up in the 50's, to know things as they were then.

Happy Memories and God bless.

© Copyright 2013, by Gene Minix.
All rights reserved.